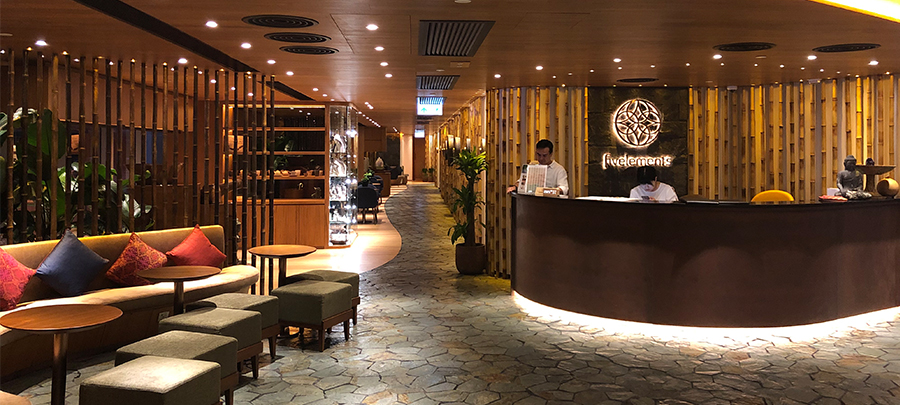 Fivelements Habitat Hong Kong Opens in Causeway Bay
Fivelements, the eco-wellness brand in the Evolution Wellness portfolio, launched its newest urban wellness concept with its first Fivelements Habitat in Times Square, Causeway Bay in Hong Kong in July 2019. Fivelements Habitat intends to bring the Hong Kong wellness community together and create exciting fresh alternatives for the growing health enthusiasts and change-makers of today and tomorrow.
Spread over 15,000-sq-ft at Times Square, the integrative wellness destination offers a wide range of classes, workshops and trainings –yoga, mindfulness, tea, sound, movement and core. The integrative wellness programs are designed for discerning residents and the corporate wellness clientele.
The diverse schedule offers up to 20 Sacred Arts classes per day, including Anti-Gravity Aerial Yoga, Tea Ceremonies, Barre, Mat Pilates, Core Focused Training, 5 Rhythms Dance, Mindful Wing Chun, Taichi, Mantra Meditation, Mandala Movement, Gong Relaxation, Japanese Flower Arrangement, and many more.
Fivelements Habitat has four Sacred Arts Studios (with dedicated facilities for moving art soundscape, heated detox, anti-gravity, and barre), where most of the classes and workshops take place. It also features a Wellness Sanctuary with six spaces: three treatment rooms (one with private steam), a Spirit Space for tea ceremonies and meditations, and two private training studios/flexible treatment rooms, featuring a signature collection of therapies including massage and bodywork, energy and intuitive healing, beauty spa wellness and holistic healing.
Furthermore, Fivelements Habitat also includes a Fivelements Sakti Elixir Bar, an innovative plant-based cuisine concept, inspired by their award-winning Sakti Dining Room at Fivelements Retreat Bali. The Sakti Elixir Bar boasts 55 seats aimed to nourish, rejuvenate and restore whilst providing essential daily nutrition. Healthy beverages and cuisine are on offer for dining in or out.
In the pipeline are Signature Wellness Day experiences for individuals, private and corporate groups, monthly and seasonal events, workshops and personalised wellness programmes over the opening months, as well as teacher trainings across the various offerings to offer real support and guidance for the growing wellness community in Hong Kong.
For more information about Fivelements Habitat, please visit https://fivelements.com/hk/habitat/
For media enquiries, please contact enquiries@www2.evolutionwellness.com.