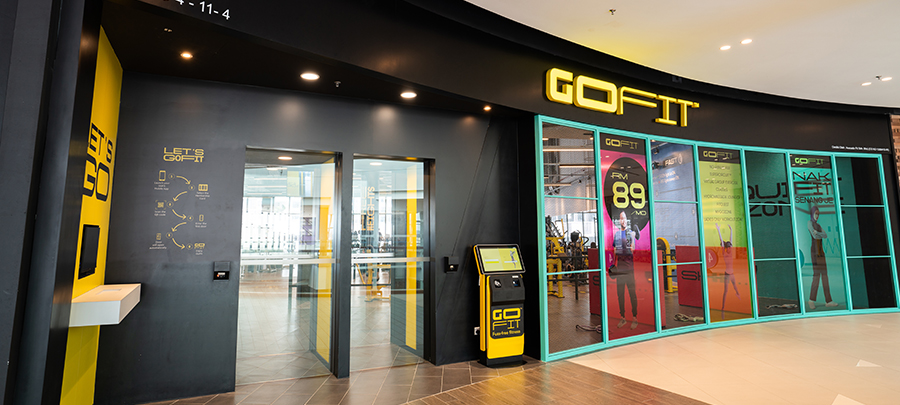 GoFit Debuts A Smart New Way To Train
The first GoFit gym in the world opened its doors to members at Central i-City Mall in Shah Alam, Malaysia early this November. Guided by its brand values of Smart, Bold, and Invigorating, GoFit presents members with a smart new way to train through a no-frills, fuss-free gym experience.
A new concept developed and owned by Evolution Wellness, Asia's leading health club operator whose portfolio also includes Celebrity Fitness and Fitness First, GoFit is the latest addition to Asia's 'high value, low price' gym category and is poised to change the way people think about budget gyms. With membership prices starting from RM89 (~USD21), GoFit is not just affordably priced, but also very well equipped with a wide range of cardio, strength and Olympic lifting equipment catering to all levels of gym goers – from the new-to-fitness customer to the more serious fitness lover. It keeps membership prices low by using technology as an enabler, self-service approaches, and a low staffing model.
At a GoFit club, access is gained through an app for increased security, which facilitates 24/7 operating hours should the demographic require it, while a self-managed membership system makes it easy for members to purchase add-on services such as a session on the HydroMassage Lounger1, or a FitQuest fitness assessment2. Members can also participate in a Signature GoFit workout3, SuperCircuitTM; work out to scheduled or on-demand digital classes, as well as stream their own workouts onto the large screens in the MyGoZoneTM.
For more information about GoFit and/or licensing opportunities, please visit www.gofit-gym.com.
For media enquiries, please contact enquiries@www2.evolutionwellness.com.
Notes:
HydroMassage provides an invigorating recovery programme delivered by travelling water jets under a waterproof skin (so the user doesn't get wet) to help alleviate muscle and soft tissue injuries.
FitQuest is a fitness assessment that utilises four simple exercises (or tasks) and a heart rate recovery measurement that only takes four minutes to complete. Once the tasks have been completed, the results are displayed on the screen immediately and are also accessible online. The FitQuest machine can also be used to perform a body composition analysis to determine a variety of metrics including body fat and muscle percentage.
SuperCircuit™ is a proprietary GoFit programme. It is a 30 minute HIIT workout, with a mixture of cardio and strength training to give you that full-body burn. Members train in a designated zone for SuperCircuit™ where our equipment selection has been carefully constructed to ensure ease of use, adding to the efficiency the workout.